Automotive Metal Stamping
Need a Partner to supply your Custom Metal Stampings?
Are you looking for a progressive and innovative company to help you create sophisticated, custom metal stampings for your automotive industry customers – within 4 weeks? If so, then you have come to the right place.
die-tech specializes in collaborating with customers just like you who service the auto industry, so you can leverage the skill and experience of our engineering design team and get the precision metal stampings that you need in record time.
Terminal leadframes, connectors, jumpers, pins, metal stampings with plastic over-molding – we do it all, even complete custom work that we can help you design from scratch.
Made in America
We are based in the United States and serve a global marketplace. Our clients in the United States, Canada, Mexico, South America, Europe, and Asia have discovered the benefits of collaborating with a nimble and skilled partner like die-tech. If you are ready to take your business to the next level in this competitive global marketplace, please contact us to see how we can work with you to achieve your goals.
How die-tech Works for You
One of the ways we maintain our competitive edge is by staying on top of market trends and looking for ways to innovate. This permits us to provide opportunities that allow our customers to bring new technology to market in record time with minimal pain. die-tech's experience in ensuring the manufacturability of a design reduces our customers' risk, time, and expense. We can get your part to market quickly by working alongside you when you need a completely custom interconnect, and by offering pre-designed options where appropriate. Our pre-designed options have the potential to save one week or more in building a die and can reduce total design time by 30% per connector.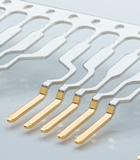 One of the exciting new trends that auto designers are facing are Electronic Stability Control (ESC) modules, which according to the National Highway Traffic Safety Administration (NHTSA) must be available as standard equipment on all new passenger vehicles by the 2012 model year. With this new regulation, automotive suppliers will likely see an increase in demand for sensors, control modules, and other components to support the need for ESC data and processing. Many of these new components will need to be designed and integrated into existing production processes, and this is where our experienced design engineers and tool makers can help make the difference for your company.
Saving You Time and Money
There's a saying that time is more precious than money. If you've been looking for ways to reduce your time-to-market, gain market share, and compete in an increasingly competitive global marketplace, then you know the truth in this statement. Time wasted on faulty initial designs, long cycle times, unnecessary steps in your manufacturing process – this is time that you can't get back. If you're ready to save yourself some time – and money – meeting with the Die-Tech engineering design team could be exactly what you need to expand your company's horizons.
One of our greatest strengths is our patented New Technology (NewT). NewT is a revolutionary stamping process that might be your solution. NewT is a set of tools and techniques developed by die-tech that eliminate most of the time-consuming stages of die construction while maintaining ISO standards. Current software and manufacturing techniques using this new stamping process allow die-tech to design and deliver sophisticated metal stampings within 4 weeks. "Impossible" metal stampings take a few weeks longer. Certified quality systems and control of the entire manufacturing process ensure that we meet your expectations of quality, delivery and investment for both your prototypes and your production parts.
End Your Frustration and Liberate Your Design Team
If you are ready to end your frustration and liberate your design team, send us your information, drawings, or Solid Works models, or contact us by phone or fax. This will begin the process so our experienced team of engineers and technicians can collaborate with you to review your design needs and discuss what you need to accomplish. Together we will study the requirements of your project and develop the best solution to fit your needs. After our design engineers have identified and analyzed each step in your manufacturing process, it is often possible for us to recommend the elimination of one or more steps in your process – or find other ways to economize and save you time and money.
ISO Qualified
In order to keep your production lines running and products moving into the hands of customers, you rely on on-time delivery of error free metal stampings. We believe that the best way to accomplish this goal is to participate in an active and ongoing process of continuous improvement.
To this end, die-tech uses the discipline and tools of the ISO/TS system to fuel our commitment to quality. We are certified ISO for the manufacture of stamped products. The external auditing process challenges us to live our documentation, benchmark our performance, question the status quo, and create higher performance standards for every member of the corporation.
Pick Up the Phone
If your company is seriously committed to making the investment required to simplify production, improve quality, and increase production yields then please contact die-tech today. Find out how our innovative design engineers, technicians and tool makers can collaborate with you to shorten your time to market and keep you competitive in today's fast-paced global marketplace.
die-tech
295 Sipe Road
York Haven, PA 17370
Phone: 717.938.6771
Fax: 717.938.6099
Stamping@die-tech.com
---
Case Studies for Automotive Metal Stamping: